Ironite Helm

Information
Type:
Helm
Made From:
3 x Ironite Bar
Price
 ?
HP+ 2 ATK+ 4
DEX+ 0 MAG+ 0 Durability: 20

The Ironite Helm is a second tier item, just above the Stone Helm, that provides additional HP and ATK. You can craft this helmet by talking to the blacksmith and by using 3 ironite bars. It is 1 tier bellow Goldium Helm. The item is the best for melee but is decent for all.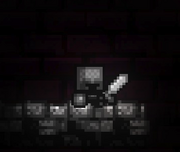 Ad blocker interference detected!
Wikia is a free-to-use site that makes money from advertising. We have a modified experience for viewers using ad blockers

Wikia is not accessible if you've made further modifications. Remove the custom ad blocker rule(s) and the page will load as expected.