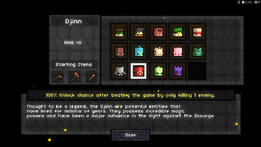 Deephaven currently houses 15 different races, each with their own unique set of qualities and starting gear. While the minor stat changes of a player's selected race may not make a major impact in the game long-term, the starting gear can impact how easy a player has it until their first village. Race should be the first character customization aspect picked and should be based on what the player wants to accomplish (game completion, hat unlocks, easy combat, etc).
Name
Qualities
Starting Items
Unlock

Peon
HP +1
1 Wooden Axe

2 Random Items

Default

Bio:
Peons are the common folk of Deephaven. These simple yet ambitious people strive to expand their colonies underground through mining, farming, and crafting. Perhaps one day these unlikely heroes will rebuild an army and take back the Overworld.

Noble
HP +1

MAG +1

1 Stone Axe
20% Unlock chance after slaying 15 monsters in a single playthrough.
Bio:
Nobles are the direct descendants of kings in the Overworld. Some can afford to travel through safe routes in Deephaven to the surface, if only for a moment to feel the sun on their skin. Nobles have much influence on the expansion in Deephaven.

Orclops
HP -1

ATK +2

1 Bone Sword

20% chance to unlock after mining 20 ores in a single playthrough.

Bio:
These gargantuan brutes were driven underground from their mountainous home lands. Although not very intelligent, these barbarians hold incredible might and power which has allowed them to aggressively expand in Deephaven.

Dwelf
HP -1

DEX +4

1 Wooden Axe

1 Random Item

20% Unlock chance after acquiring your first skill within a single playthrough.

Bio:
The agile Dwelves are a race of peace and harmony. But don't be fooled, when threatened they are unmatched with bows and deadly magic. Dwelves aim to forge The Grand Alliance composed of all races in order to defeat the Scourge

Crusader
ATK +1
1 Wooden Axe
20% unlock chance after aquiring your second skill in a playthrough.
Bio:
These people are what remain of the great war in the overworld. Most of them were wanted criminals but all were true soldiers who risked everything to prevent the scourge from taking over.

Remnant
HP -1

MAG +4

1 Wooden Axe

1 Bolt

20% unlock chance after beating the game.
Bio:
Legends told of an ancient race that lived long before this age of chaos and destruction. Until the Scourge attacked, the Remnant lived reclusive lives deep within the Icy Wastes. But now these magical beings have joined in on the fight against the Scourge, and aid in the collection and refinement of

Trogan
DEX +3
1 Wooden Axe

100% Unlock chance after beating the game in under an hour.

Bio:
High above Wyvern's Rock was the colony of Trogon. This bird-like race used to be the backbone of the trading system when the Overworld was flourishing. Daring, agile, and quite intelligent, the Trogon do what they can to transport goods throughout the intricate and dangerous passageways of Deephaven.

Earthkin
ATK +1

DEX +1

MAG +1

1 Wooden Axe

1 Random Item

20% Unlock chance after reaching District 10 within a single playthough.

Bio:
Earthkin were born deep underground. Very little is known about this mysterious race.

Pigfolk
HP -1

ATK -1

DEX -1

MAG -1

3 Raw Meat

100% Unlock chance after beating the game without using an HP Potion. (Including mysterious potion healing)

Bio:
Pigfolk are shunned in Deephaven. These extremely dumb yet good spirited people just want to help fight the Scourge.

Qualogg
ATK +2

DEX +2

1 Wooden Axe

1 Bug Net

1 Random Item

100% Unlock after beating the game without crafting anything.
Bio:
The aquatic Qualogg lived in the underground rivers long before any other races fled from the surface. It took them quite some time to accept the strangers into their homeland.
ATK +1

DEX +3

1 Wooden Axe
50% Unlock chance after visiting the Crater Biome.
Bio:
Bandicoots are cunning, smart, and extremely greedy. These thieves have followed everyone into Deephaven with the sole purpose of hoarding items and stealing from the unaware.

Djinn
MAG +3
1 Wooden Axe

1 Fireball

100% Unlock chance after beating the game by only killing 1 enemy. (Meaning you can kill 1 normal enemy and still unlock it after killing the scourge)

Bio:
Thought to be a legend, the Djinn are powerful entities that have lived for millions of years. They possess incredible magic powers and have been a major influence in the fight against the scourge.

Lizardman
ATK+1

DEX+3

MAG+1

1 Stone Pick
Unlocked by naming your character something ... (Name them "Roguelands" to honor the developer's newest game)
Bio:
The Lizardmen are adept huntsmen, whose skill and prowess in combat has aided the fight against the Scourge. Mainly a hunting and gathering race, these people do not stay in one place for very long.

Scourgeling
MAG +4
Summon Zombie
Unlocked after opening a total (over every game) of 20 golden chests.
Bio:
A spawn of the scourge. An enemy to all.

Spirit
HP +7
ATK +3
1 Gold Sword

1 Wooden Axe

Unlocked after defeating Secret Boss Spirit Knight, Axelark III.
Bio:
A remnant of the great Spirit Knight, Axelark III. Some say he was the strongest knight in the Overworld, the only one to slay a Wight Wyvern in battle.
Pay attention to what sign is in front of stat changes under qualities. Some races increase stats, others will decrease one stats in favor for another. Compare this to your starting stats and make sure your hero does not start off with unbearably low health, which can make it extremely difficult to progress in the game.
"Random Item" as a piece of starting gear can be extremely useful, as it can lead to starting off with valuable gear like weapons, tools, and herbs.
If you right-click on the race button, your characters appearance changes to the race before it, even if it isn't yet unlocked. However, this doesn't affect your stats or starting items. This means that you, for example, can look like a Dwelf, but have a Djinns stat-changes and starting items.
'StrategiesEdit
100% Unlock chance after beating the game by only killing 1 enemy. (Meaning you can kill 1 normal enemy and still unlock it after killing the scourge)
'multiplayerEdit
lockmaster/defensive traits
Magician Hat
Regen Fairy or Haste Beetle
This is most easily done multiplayer with two players at the least one clears the entire path while the person going for this will follow fairly far behind. When at town you may try and also get the Gorgon Eye in the same run. It may be best to avoid volcanoes and dungeons and go to as many Veldts as you can for the gold. always take Cave over volcanoes/dungeons but also don't go out of your way to go to caves. your friend(s) will kill spiders so you can have a bugnet once you have a bugnet collect as many bugs as you can as your Friend(s) may want staves.Once you get to district 19 and before going into district 20 be sure you have these things
|


Diamonite Helm
|

Diamonite Armor
|


Diamonite Shield
or fire bow
bolt fireball frostshard
90+


|


Goldium Helm
|


Goldium Armor


Goldium Shield

singleplayerEdit
Defensive/Healthy traits
Magician Hat
Regen Fairy or Ancient Bat
Playing alone makes this much more difficult. Make your one kill a spider in the forests to hopfully get 2-4 webs if you get 4 make a bug net if you get 2-3 make a bow or you can wait on your first kill and make it a cave spider at get at least 6 webs so you can have both. as you get to the higher districts it maybe best to only go to Veldts,Caves. Haveing already killed your one enemy you won't be able to make Hide/Cloth armour don't bother making a sword it won't help you much in the scourge lair because you can only kill the Scourge Wall. Before advancing into district 20 be sure you have these things
|


Diamonite Helm
|

Diamonite Armor
|


Diamonite Shield
or fire bow
bolt fireball frostshard
90+


|


Goldium Helm
|


Goldium Armor

'multiplayerEdit
Beserker Scarf / Magician Hat
intelligent/Defensive, Aggressive/Defensive
Gorgon Eye / Flame of Hope or Regen Fairy
Becuase YOU can't craft anything it's nigh impossible to complete this one by yourself. Starting with a weapon is most important. you will kill everything (it's easy to do this with another person going for dijnn) clearing the path for everyone else to mine and chop all the trees rinse . repeat . because they are so deadly Avoid Dungeons and volcanoes unless you don't have the flame of hope than vistit the dungeon once or twice only. if you are playing Djinn/Remnant you will want to go to veldts but not so much if you are playing Orclops/Lizardman/Spirit caves have lots of dimonite, veldts have lots of gold. the final sets of items you want before district 20 are
|


Diamonite Helm
|

Diamonite Armor
|


Diamonite Shield

---
bolt
fireball
frost shard
|


Luminous Hood
|


Luminous Robes


Diamonite Shield